Look, I'm just going to say it: The Mavic Pro is in my personal view (and the majority of people who have tried both models) is far superior to the GoPro Karma.
There are numerous reasons why which I will point to in this comparison and for the prices both these models share, which is around the same anyway, the DJI model is far better to buy.
But I do know there may be die hard GoPro people out there who would prefer the Karma, in any case, I am going to be quite unbiased here, even though I prefer the Mavic Pro. Who knows, perhaps the other one may be more suitable for you after you read the comparison…

Here is a quick summary of my experiences with both models, just so you know I've actually tried them:
With the Mavic Pro (MP)…
I've used and continue to use this model with tremendous success. It is extremely portable, it has a fantastic camera and the flight capabilities are in the most elite level there is when it comes to all the drone models available today.
As I said in my review of this drone, it is at the top of the mountain with a few others. It is my go to "default" model to use whenever I fly somewhere new, because it's size allows me to fly in just about any area, not just an open field and I can get amazing pictures and videos. I absolutely love this model.
And I've also upgraded my list of drones to the Phantom 4 Pro and Mavic 2 Pro, both of which are also vastly superior to the Karma.
With the GoPro Karma…
My story with this model actually predates the MP because I actually got it before, yet my 2 short weeks of "trying" to use it failed miserably due to certain bugs and annoying troubleshooting steps I could not get through no matter what I did (I took it back to the store, I looked at forums, I did many things to try and get this thing to work).
The main issue was that there were a number of firmware updates that needed to be completed for a number of accessories and if it wasn't ALL aligned together and in sync (which I couldn't get it to do), it just wouldn't fly, period. 
I later had to even replace my Hero 5 Black Camera (a second time) because it just wouldn't update and that is only part of the problem I have had with GoPro products over the years, including the most recent with the Hero 6 camera I had gotten, which also turned out to have a defect, and then another with the replacement I had gotten.
But on the upside, the drone itself is very durable and can withstand some really strong weather conditions. Yet this and the camera quality of this model are the only 2 things I'd say that make it worth the purchase.
On the flip side though, while I like the camera, the drone itself is FAR too expensive for the quality you get. There are a lot of features missing here that the MP for example supplements and takes to the next level (I'll point them out in a bit).
I truly want to say I like the GoPro's drone and I really want to recommend it, but given all the bad experiences I've had with it including with the cameras all belonging to the same company, my history has not been the best with it, and beyond that with GoPro products in general. I will elaborate further as we go, but, what a headache…
And I've "briefly" tested the Hero 7 Black and had to return that too. But that is the camera itself. It doesn't change that the Karma drone itself is not high quality.
So let's compare a few things between both models:
1) First the camera…it depends:
The MP has a 12 MP camera, 4k shooting capabilities at up to 30 fps. You can see examples of how well it shoots

here

.
The Karma doesn't actually have a camera, you have to either buy the Hero 5 Black with it or separately. With this model, you have 2 choices, the Hero 5 Black and most recently, the Hero 6 Black.
The Hero 5 Black also has a 12 MP camera and shoots in 4k, also with the capabilities of 30 fps. 

The Hero 6 Black however goes further with also a 12 MP camera, but now it can shoot 4k in 60 fps. 

The Hero 7 Black is pretty much a Hero 6 Black, but with great stabilization (without the drone).
So when comparing this, you have to compare the Mavic's camera to 3 of the GoPro cameras:
My personal opinion is that the video/photo shooting quality of the MP is superior to the Hero 5 Black, even though the parameters are nearly identical, although the Hero 5 Black has more customization options, and that's great if you're a huge camera buff and know how to edit the picture/video for better footage. 
Yet I will still say from what I've personally seen and filmed, the Mavic's is still better, just slightly though.
However, what happens when you compare the same Mavic camera to the Hero 6? You'd think there's a change, but honestly, there's not.
It's honestly either very similar or even worse in certain cases, which I found shocking. I though the Hero 6 was going to be "next level", though it's not…

My first impression of this comparison above was that the Hero 5 Black has a sharper quality image. The Hero 6 seems a bit more bright and cloudy. Of course you have to take into account the sunlight which can affect this. So here's another to help point this out:
Look closely, you'll see what I mean about sharpness in one and cloudiness in the other…
But what about the video quality? Would the Mavic's camera beat the Hero 5 and 6?
When it comes to the Hero 5, I will say YES. But as for the Hero 6, I wish I could even do one, unfortunately the model I got appeared to have a bug and that is that it did not show me what I was filming in 4k at 60 fps.
All I could do was hear the sound of the video I shot, but not the actual video. When I lowered the quality to 4k at 30 fps, it worked fine, but then what's the point? I already have a Hero 5 that does this and the Hero 6's "stand out" is the new frame rate. I'd love to see it, but honestly, I can't…
However, based on what I have gathered in the image comparison, I will say that the Mavic Pro's camera is still superior to both Hero cameras because from what I did see, there aren't noticeable enough changes between the image quality and in some cases the 5 is better, and since the Mavic is superior to the 5, I will say it's also superior to the 6.
At the same time I shot the comparison between the Hero cameras above, I wasn't able to use the Mavic at the time, so I will put up comparison images when I can, but in the meantime, here are some great images I shot with the Mavic and Hero 5 in the past:

2) Now for the actual drone: The MP wins by a lot.
While the topic of both model's cameras is debatable, there is hardly any argument that the Mavic as a drone is vastly superior to the Karma. Here are several BIG reasons why: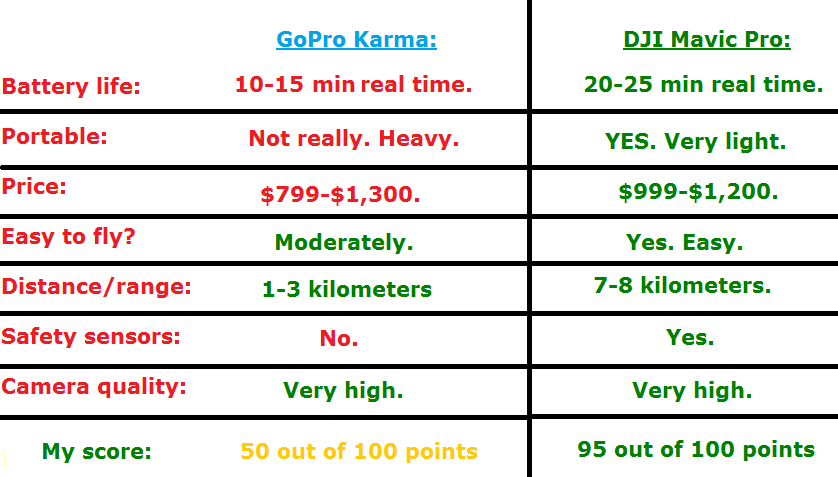 But let's get into other specifics, and elaborate on the ones I listed:
The Mavic…
Is more portable. It's simply easier to carry around, no debate here.

It weights FAR less. It's about twice as light.

It has flight features that are VASTLY superior to the Karma. 

More intelligent flight modes. 

Longer overall flight time. MP will get you about 25 minutes and the Karma will get you about 10-15 minutes.

Longer distance flying potential. 7-8 km with the MP vs 1-3 KM with the GoPro one…

It has the capability to film better and safer in tighter spaces.

It is able to hover in one place FAR better than the Karma, which tends to drift a lot more often is left flying in one spot.

It is a MUCH safer model to use because of it's intelligent flight modes and…

Sensors. These things make it safer to fly and avoid people/obstacles, while the Karma has NONE of them, making it something that requires more careful piloting skills to fly safely.

It is easier to set up. My goodness, I can write pages on this stuff…but I'll spare you the long stories and just mention the main points…
Here's just some of the things that made using GoPro products absolutely frustrating for me…
When I first got my Hero 5 Black (before I even got into droning), the VERY first problem I had was that the place where you open up and insert the battery/SD card was broken. I couldn't open or comfortably close that space. 
I ended up replacing it for a new one, which actually was the one I used on the Karma. The problem was the firmware was impossible for me to update, so impossible that I sent it back to GoPro and they sent me a NEW Hero 5 Black. That makes 3 cameras that I went through over this long haul.
Now just yesterday I got myself the Hero 6 Black and guess what…it ALSO has the same problem with the opening where you put the battery in. I am in the process of returning this one too and replacing it.
Update: The second camera I got was the one which had the issues with showing the video I shot at 60 fps. I finally decided to give up on GoPro and just returned the camera altogether, these purchases are not worth it for me anymore and there is little/no change between the 5 and 6. I'll save myself $500 and wait for something else (Like the Osmo Action and Osmo Pocket).
Look…I love the camera quality this product puts out, but either I'm extremely unlucky to keep buying a defect model over and over or there's an issue with the company itself.
Now if you also didn't know, the Karma itself ALSO had a defect when it first came out, which had to do with it's battery, a dangerous problem which was corrected but still the model itself is in my opinion too cheap in quality and too expensive to equal that quality. I would even price this drone at $300 TOPS.
3) Let's consider the best case scenario…
I'll be optimistic, exclude my "luck" for a moment and assume that I got a perfectly working Karma, a perfectly working Hero 6 Black and it's flying around. This is the best you can possibly get as of now when it comes to the GoPro, so let's compare THIS best case version to the Mavic…
While the camera may be slightly better (if you can get the footage to actually show), in every other category, the Karma loses by a lot to the Mavic. Simply re-look at the points made in 2. It doesn't matter what new update the Karma has or how much better the camera gets, this drone will be still be LEVELS below the Mavic.
4) So let's look at the price…Mavic wins again.
Karma without the camera: $799. 
With the camera (Hero 5 Black is the default one): $1,100.
Right now there is no package available for the Hero 6 Black with the drone, so your option is to buy the drone itself without the camera, then get the Hero 6 Black separately which would be $799+$499. You're looking at about $1,300-$1,400 with taxes. 
Now the Mavic:
For the drone itself which includes the camera (it's attached to it): $999.
There's also a "combo" where you get extra accessories: $1,200. 
In the CHEAPEST case scenario, you're looking at $999 for the MP and $1,100 for the Karma (you can't fly it without the camera so you need to get it as well).
At it's most expensive, again the Mavic is vastly cheaper and you get way more with it's combo package being $1,200 and Karma (with a Hero 6) totaling to over $1,300.
With this simple price in mind, plus taking into consideration just how many more capabilities the DJI model has, you're making a FAR better investment in buying that vs buying the Karma.
I personally fly with the Mavic, but "intend to" use the camera separately on trips (I'm talking about the Hero 5, I've given up on the 6). I'm MORE than fine with the quality image/video I get from my Mavic and when it comes to taking trips where I can't use my drone, the Hero 5 will suffice in just about any circumstance.
The final comparison:
I've touched upon the most important points between these models and you really have to look at the following:
Which one's camera is better? It's debatable.
Which drone is better? Oh goodness, the Mavic. Easily…you will actually get a HIGH quality flying machine with this.
Which price is better. Mavic again. 
I've provided links to the specific reviews and specs of each model above but I do hope this comparison has helped you. I know I said I would be unbiased, but I am sharing all the personal experiences I've had with both models (and cameras).
Which one has a better customer service? GoPro. Ok, they are good here, I'll admit. I wouldn't have been able to so easily replace my camera if it weren't for the patient, helpful staff that assisted me.
Which model is better/safer for beginners? Mavic. It's safety features are incredible.
Which one has better advertising? GoPro and I actually say this because I think it's one of the biggest reasons why they can "get away" with getting such great sales, yet have such huge bugs and lemons in their product arsenal. 
The videos you see them using to advertise their stuff are truly amazing. Yet, this leads people like myself to believe that it's easy to use and there's no issues/tech problems to worry about. However, I am not the only one who has complained about the problems I've listed with GoPro products. I feel like it's a dirty secret within the company and frankly, the issues they have, at least the ones I had, are EASILY correctable. Why are they so lazy and keep making these mistakes!? 
Who has the better reputation? DJI. The irony of this whole thing on advertising is that DJI probably doesn't even have a 10th of the reach that GoPro has and yet their products are WIDELY popular with their customers because the people buying from them know they're always going to get a secure, safe and HIGH quality product.
I feel like DJI has developed the type of solid reputation that for example Apple once had when people knew they were buying the best phones/computers on the market and DJI is doing that with drones. They are easily the best. 
GoPro at one point was good, but I think their popularity and success led to the erosion of incentive, because honestly, they've been putting out some bad products in my opinion and the changes between for example the Hero 5 and 6 do NOT justify the price increases. I mean come one, the footage is better on the 5 than 6!? Seriously GoPro, what's wrong with you!?
What do you all think?
I still own and use GoPro's but when you take their only drone and compare it to DJI models, it's like comparing a knock off model to the real thing…
But if you own either of these 2 drone models, PLEASE share your thoughts on them and if you agree with my drone comparison! 
Update: I just want to mention one additional thing on my issue with the Hero 6 Black…
When I first tried to return and exchange it, the sales rep who assisted me agreed with my position on the fact that DJI drones are superior to Karma and even said they try to get people to buy the DJI models if they come in and are interested in the GoPro model. 
So just so you guys have an "accounting" of the issues I've had with GoPro, here it is:
Couldn't get the Karma to work.

Went through 3 different Hero 5 Black cameras, and the third one works fine.

Went through 2 Hero 6 Black Cameras, and returned both of them for the issues I mentioned above.
Now I'm not going to say that DJI is perfect, they have issues as well, sometimes drones can "act up", but the problems are fixable and you have so much room to edit/fix the model's software and in short, I've had much LESS of a headache dealing with DJI and a lot more fun with them vs GoPro which has so far been an equal number of good and bad experiences, which is unacceptable.
So overall, get the Mavic Pro (or Mavic Pro 2 if you want the next level).