Drones that use higher end batteries require their own rules for keeping them healthy and working. Make sure to use these 5 tips.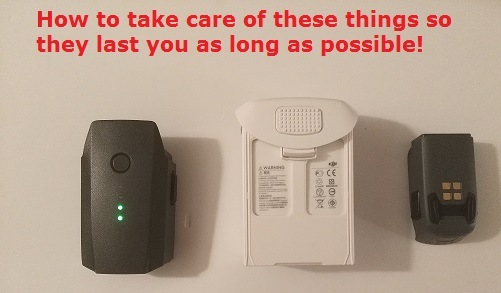 Higher end drone models do not use your everyday batteries that you can pretty much do anything with. They are of the lipo category and have their own specific care and safety guidelines that you should absolutely read up on to ensure their lifespan is as long as possible and that you don't do anything to cause it's health/lifespan danger (or yours since they can explode…). 
The great news is that the same good/great drone models these days that use them also have a lot of safety mechanisms in place to help ensure that in most cases, they will be fine and nothing dangerous will happen to them.
But there's PLENTY of foolish things the owners of those batteries can do to wipe away that "safety net" that's in place and honestly, the tips I will be providing you today are really a matter of NOT doing those foolish things. 
If nothing else, if you just read the user manual on how to take care of these things, you will really be implementing the most important guidelines. What I am writing here is more of what I have personally experienced to help them last longer.
The first thing you need to understand is mAh and why it's critical for this topic:
Every single lipo/drone battery comes with it's own measurement of mAh which stands for "milli Ampere per hour".
What's important to really understand with mAh isn't it's abbreviation, but what it "really" is and that's a measurement of your drone's battery life.
The easiest way to describe mAh is to compare it to a gas tank in a car. Your lipo's maximum mAh is it's maximum "gas tank". So when you fully charge it, it won't go beyond it's maximum level.
Let's take the Mavic Pro model for example. It's battery has a starting mAh of 3,830. That is basically a measurement of it's "gas tank" when you first start using it. When I first got the Mavic Pro and charged it up, the maximum charge at the time was in fact 3,830. 
In addition to this number, the size/weight of the drone and how I fly it impacts the overall flight time. However…
Lipo batteries have a ever decreasing lifespan though…
Which is why the tips I'm going to give you will slow down that decrease significantly and prolong it's life.
Starting from the maximum mAh it starts from, the first time you charge it, use it, charge it again and keep repeating that, that maximum number goes down and will continue to do so until it hits 0 mAh.
With the Mavic Pro battery, I've used it for several months and now my maximum mAh is slightly lower, at 3,694 mAh. So after using this for several months, quite a few times, at least 1-2 dozen, I've only lost a little over 100 mAh which is awesome in my opinion. I'm very slowly losing the mAh which shows I'm doing the right things to keep it healthy and honestly, it's the same 5 tips I'm going to give you. 
At the rate I'm flying my Mavic Pro, I can literally get about 2 years or possibly even more worth of flights with this ONE battery alone and frankly, most people could too if (again) they JUST do the things I'll show you. 

You have to understand that your drone's lipo will eventually run out of energy. The biggest impact you can make is to make sure that run off doesn't happen as quickly. You can easily get 2-3 times more life out of your lipo if you just follow some basic rules and tips.
Not only will these tips keep your lipo safer and "living" longer, while serving you, but you're also going to save money. These things can be very expensive. I own 3 drone models and 7 batteries in total between those 3, it's not a cheap investment and certainly not one I'd like to lose anytime soon over doing foolish things…
Here are 5 great ways to take of them so they last you longer:
1) Let them cool down before using them in the following circumstances:
A) After charging them, let them remain at a room temperature for about 20 minutes before putting them into your drone model. Don't put them in and start using them immediately after charging.
B) Let's say you flew your UAV around and it's time to set it down. If you take the lipo out, do NOT charge it right away. If you have a spare one lying around, sure switch it up and put it into the drone, but the one before it that you just flew with, take it out, let it cool down for 20 minutes at least, then charge it up. 
You have to understand that if the lipo is hot or warm after use (which it will be), putting it into charge or right away using it to fly immediately after charging it puts extra pressure on it and that can negatively affect the mAh and cause issues. 
These things are very sensitive so it's best to use them/charge them when it's cooled down, before and after use, that's the rule of thumb I've been following. 
2) After charging the lipo fully for use, try to use it within a 24 hour period and get it under 50% at least after use. 
Another important rule of thumb is that lipo batteries need to be used after they are charged fully or at least above 50%. The goal is to use up the charge as soon as possible and within 24 hours so that the full powered battery does not just sit around and put pressure on the system.
Again, back to the sensitivity thing. Lipo batteries need to be used after they are charged. My general rule is, after I get a full charge in and am ready to fly, I'll make sure it's at least UNDER 50% after use. 
Usually keeping it above 50% or worse at a 100% drains the overall mAh and though it may not kill the lipo outright, it will impact it later on and potentially cause it have to issues later on. 
So again, after you charge it up, use it as soon as you can (wait at least 20 minutes though) and get it under 50% at least. Then only charge it up again when you're ready to go out for another flight. 
3) Store/keep it the lipo in a dry/cool area.
This is one of those looked over "rules" people neglect constantly. They store the battery in the wrong areas. If you read the manual of your drone battery, you're bound to see a whole bunch of bullet points on what NOT to do with it.
There's a reason they put up all those rules in the manual: Because they are IMPORTANT.
Storage is one of those highly overlooked, yet critical points. Keep it in a 70 degree (Fahrenheit) or lower temp.
Basically anything that's room temperature and NOT overly hot/overly cold (freezing) or in the sun is fine. Do NOT keep it outside right where the sun can shine on it. 
If it's stored in a place where temperatures are extremely hot like a garage, car (trunk), warehouse, out in the sun, on the beach, all on warm/hot seasons, this is a HUGE mistake and extremely dangerous for the life of the battery.
Do NOT keep it in these places. What can happen is that it can "swell" up and then it's either on the brink of explosion or at best, useless, 2 scenarios you don't want…
Also the same environments in the cold seasons are also damaging, so do not keep it there when it's cold either. Somewhere between above freezing to 70 degrees is fine. 
Also be very careful if it's humid outside. Keep it in as dry of an area as possible. I will never forget how I came home one night, took a shower then decided to clean my drone by taking it into the bathroom and wiping it.
The bathroom was still humid from the shower I took and I remember just how quickly my battery started developing these "marks" which I immediately assumed were from the humidity. I quickly ran out of the bathroom and put the drone in a safe place. Luckily the battery and drone were OK.
In any case, if you're caught outside and it's humid, raining, misty, ect…, try to keep your drone stored in backpack, or car (if it's not too hot outside) so at least it's protected as much as possible from the humidity. 
One other thing to note is not to keep them in places where temperatures can change rapidly. That has a VERY detrimental effect on the lipo battery. If it's not discharged enough, it can actually explode if temperatures change up and down too quickly, which is why keeping them in one place at room temperature is the best place to do it at. 
And also, extremely hot/cold temperatures can also cause the battery to NOT charge and show errors. In this case, either wait until the room temperature is normalized as is the lipo and/or if the errors continue showing and it won't charge, try to do a FULL discharge before attempting to recharge it again. 
In short: Keep it in your house/apartment, in a place where the sun doesn't shine on it and the wind from a window doesn't blow on it. Do not keep it outside, in hot/humid areas or cold areas for that matter. 
4) Try to use the battery up at least once every 1-2 weeks. 
It's pretty clear you're not going to be flying your model around 24-7, so most of it's life is going to be spent laying around or going with you on trips (still laying around), waiting for you to take it out. Well during that time, the battery isn't exactly frozen in time, it's still going through a discharge period.
For most models, it's set to 10 days, and you can edit it to be less. Personally, I leave it on the default (10 days). After that period, your battery will start to drain itself until it reaches 0%, although from what I've heard, it never really does get that far because there's always some sort of safety mechanism to ensure it doesn't get to 0%, otherwise it'll die.
As a precaution, before it "fully" discharges, I make sure to charge it up fully, use it and get it to be under 50% as I said in one of the rules. This keeps it healthy and active and positively impacts it's mAh.
In short: Keep using the battery every few days or once every week or two. That's how I do it. It's also another thing to consider if you're going to get mass batteries. You will have to discharge all of them every once in awhile, which can be an annoying process if you don't fly often so buy extras with this in mind. 
Note: Going on an actual airplane flight? Here's important flight rules for taking drones with you.
Also it's not a huge deal if you don't use your drone battery for a month or a little bit longer. As long as it's stored under 50% charge and is in a cool environment, it should be OK.
5) If the battery, on it's own is on (green lights are on), do not put it in a drone, or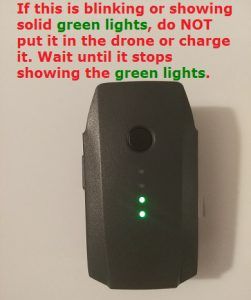 charge it. 
Wait until the lights cease to show up, then it's safe to charge/put it inside the drone. Sometimes you can accidentally press the on button while trying to put it inside your model or when you're trying to put it inside a port to charge and this can affect it negatively. Wait until the green lights stop blinking, then do what you need to do.
Also, if it's in the drone, and you turn it on, obviously, do not take it out until it's no longer showing full green lights or blinking green lights.
Overall…Try not to drop them or mistreat them…
I suppose when you buy something as expensive as these things are, this rule is pretty much ingrained, but people can really mess this up and mistreating your battery can impact it's mAh and cause it to act up.
Dropping it is bad obviously.

Keeping it in the wrong environment is bad.

When traveling, try not to keep it in your pocket or unprotected as there's sensitive parts exposed to who knows what's inside your pocket or other areas. Invest money in a backpack that will carefully store and protect it…
In short, treat these things well, because they will serve you longer and also ensure your drone flies more safely without a hitch.