In early 2018, Autel announced that they would be releasing the Evo later this year (it's already out at the time of this post).
Soon after, DJI announced their own new drone, the Mavic Air and while provide other articles comparing those 2 as well as the Evo to others, let's focus entirely on it here.
Overall, there has been and still a lot of hype behind this model, because the hope at least from drone enthusiasts is that there's finally another company out there that's going to give DJI a run for it's money, thus improving the quality of future drones, lowering the prices and overall making this entire industry more exciting to get into. Is that the case now that it's out? Let's find out:
I'm going to give you the specs (which you probably already know), and I'm going to explain if it's as good as it was hyped up to be now that it's out.
Stats and info on product:
Name: Autel Evo.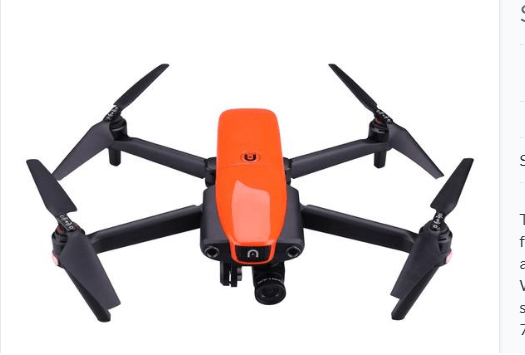 Company: Autel.
Flight time: Advertised, 30, but more like 20-25 minutes.
Range potential: 7 KM, but it's closer to about half that in most circumstances.
Size: About the same as the Mavic Pro. Fits in your hand.
Price: $999.
Camera quality: 12 MP, shoots in 4K at up to 60 FPS, at 100 mpbs. And it has a 3 axis gimbal.
Sensors? Yes, 3: Front, back and bottom.
Rating: 85 out of 100 points. When the Evo came out, I gave it an 80 out of 100 due to many of it's promises not meeting expectations. However, firmware updates corrected MOST of them and now this drone is one of the BEST in filming and flying for such an awesome price, highly recommended.
So overall, I DO recommend this model and here is the link to see other reviews for it. I will also say that I give 5 reasons you should get it below (if you're considering it or not).
Let's discuss the 3 truly great things about the Evo:
1) The camera. The first standout feature.
This is the first drone in 2018, at least in the portable market which has such a high quality camera. While the other drones in this department are good in that regard too, the Evo takes it to the next level (4K @ 60 FPS).
DJI owners who have owned a Phantom 4 Pro may understand what I'm about to say but it's similar in specs to a Phantom 4 Pro camera (comparison), on a portable drone, that's really what you're getting with the Evo camera and it's awesome.
Without a doubt, as of July 6th, 2018, the Evo's camera is at the top of the portable drone market. 
Update: Now there's another contender, the Mavic Pro 2 and it films differently than the Autel Evo, get the comparison here.
2) It is very quiet. 
Likely as quiet as the Mavic Pro with the quiet propellers. 
3) The controller is awesome.
It displays pretty much everything you need to know about the flight going on the actual controller and the attachment for the phone is easily installed and comfortable to view. It is WAY better than the Mavic/Spark controllers.
Where the Evo did not live up to the hype (updated as fixes did come in):
Unfortunately as I was looking for more reasons to recommend the Evo, I found myself having to go from initially 5 reasons to recommend it to 3 because the unfortunate tale is that many of the specs that it boasted simply do not have the same real life applications. 
For example:
1) The flight time was supposed to be 30 minutes. 
It is typically not. Now I get it, flight conditions play a huge role, and as an owner of various drones, I completely agree, but even when hovering, I've seen videos where the Evo could barely get up to 25 minutes of flight time.
Now I am not complaining about a 20+ minute flight time. That is plenty in my book, but when you advertise 30 minutes but get about 30% LESS of that in real life, that's not good.
As of today, it's still around 20-25 and in open areas with little wind, you may be able to get the higher end of 20 minutes. I still believe (and have seen) that a regular Mavic Pro gets about the same if not a little more flight time.
2) The range was supposed to hit 7 kilometers. 
Update: Firmware updates have improved this and in open areas, this drone CAN deliver on 7 KM ranges and possibly even more (how to do range tests).
I don't see how this is likely. The range tests I saw didn't get to that amount in open fields and I think it is in part due to the connection type the Evo uses which is a form of WiFi. It is basically similar to the type the Mavic Air uses and basically it can get pretty flaky if there's enough obstacles between your controller and drone.
Now you may think this connection issue will happen to any model, but that's not true. Having used the Mavic's ocusync connection, I was able to get 2 kilometers easily while standing on grass and having a bunch of trees and obstacles between us. Yet that connection penetrated all those obstacles and still got through and I don't even want to mention how far that thing can get in an open field.
Basically the point is that, like the flight time, you are unlikely to get the same range on the Evo as advertised, which is unfortunate. Now if you prefer to fly in sight or perhaps within 500-1,000 meters, you should have no issues with this and will likely enjoy a good, strong connection.
Now there were some issues with the horizon being tilted on first generation models, but those were handed to people for testing, so the updates Autel releases should do more than fix this issue and other hardware/software ones, so I didn't think that warranted an official con (but in case anyone though I forgot or neglected to mention it).
And as an update on that, YES the horizon "tilt" has been fixed.
Let's address if this drone is a Mavic killer.
People love to hype new models or put in some clickbait titles but when you look at the Evo, in terms of the camera, yes it is better, but frankly, it is the only real feature in which this model is superior to the other portable drones on the market.
When you analyze the this model against the existing competition, particularly the Mavic Air and Mavic Pro, the only area where it really wins out in is again, the camera. While I'll do a separate comparison with the Mavic Air and another with the Mavic Pro, in case you are wondering about my preliminary thoughts, I believe:
That the Evo has a lot more benefits over the Mavic Air. It shoots better, flies better and lasts longer.
However, against the Mavic Pro, the only area where it wins is when you compare the cameras. Overall, I'd still put the Mavic Pro as a whole to be better than the Evo. It has a more reliable connection, longer range, flies just as long if not longer still and the camera quality, while lower on paper, still is hard to see big differences unless you're a professional video/photographer. 
Update: With all the fixes, the Autel Evo matches and exceeds the original Mavic Pro.
I still don't think that it's a "Killer", but with both being $999, if you have that kind of money to spend, just get the Evo, you may get a little less in minutes of flight time, but with a way better camera and other cool perks, it's a much better buy than the original Mavic Pro (and I own one, so I'm saying this honestly).
5 reasons you should get an Autel Evo:
1) It's camera is insanely good, and I'm still shocked by how good it is.
I don't own an Evo, but I do own a Phantom 4 Pro and Mavic 2 Pro and I would argue that the camera on the Evo is either close to or on par with these other 2 models and their cameras. 
I've seen so many comparison videos between these 3 models and Autel always holds it's on. If you don't know anything about post production stuff and just need a camera that'll work very well for you on auto, this model is amazing for you.
It's camera is 100% better than the original Mavic Pro and Mavic Air. I would even say at times it's sharper than the Mavic 2 Pro unless it's manually edited. 
And I have even considered getting it despite having 2 "superior models".
Like I said, I have the Mp2 and Phantom 4 Pro, yet there have been times I've almost considered getting the Autel Evo. I do consider the MP2 camera to be slightly better. And you save $500 at least when you compare it to the other 2 models.
What I will say is that if a 1 inch sensor Autel Evo 2 ever comes out, I WILL get it.
Update: I did get it! Here is my review of the Autel Evo 2.
2) It's lack of geo fencing can be a mixed bag, but I like it.
If you're a responsible flier, this is certainly a huge plus and I'm all for responsible flying, but as an owner of 5 DJI models, I will say all the updates, all the geo fencing red tape can get annoying. I fly according to the rules, but they do get more and more constricting overtime, which makes the lack of that red tape on this model liberating. 
3) The "no need for a phone" connection is huge.
Just controlling this drone with the remote that has a built in screen is a major plus that no drone model I own has. It's the future of good drone models in my opinion.
4) The price for the quality is worth it.
I do believe as an overall drone model, this could be slightly better (more flight time, better range), but for the $999 price, I think it's a great deal. Get the Autel Evo here.
5) Great support from the drone company.
Autel may not be the #1 drone company in the world (yet), but when it comes to drone support, it's tough to argue if there's any company that's better. I keep hearing over and over how awesome this company's support is, especially compared to DJI and it's another reason why in the future, this company's future drones are on my list of drones to buy!