The Phantom 4 drone is one of the few models that comes with it's own "foam case", which quite frankly is awesome. But if you're going to be traveling with your own or worse, hiking like I do, you're going to need a backpack and the one I have been using for just that purpose is the Manfrotto MB BP D1 (that's it's full name) and in this review, I'll cover what to expect from it and just how reliable it has been for me.
My experiences with the Manfrotto Drone Backpack: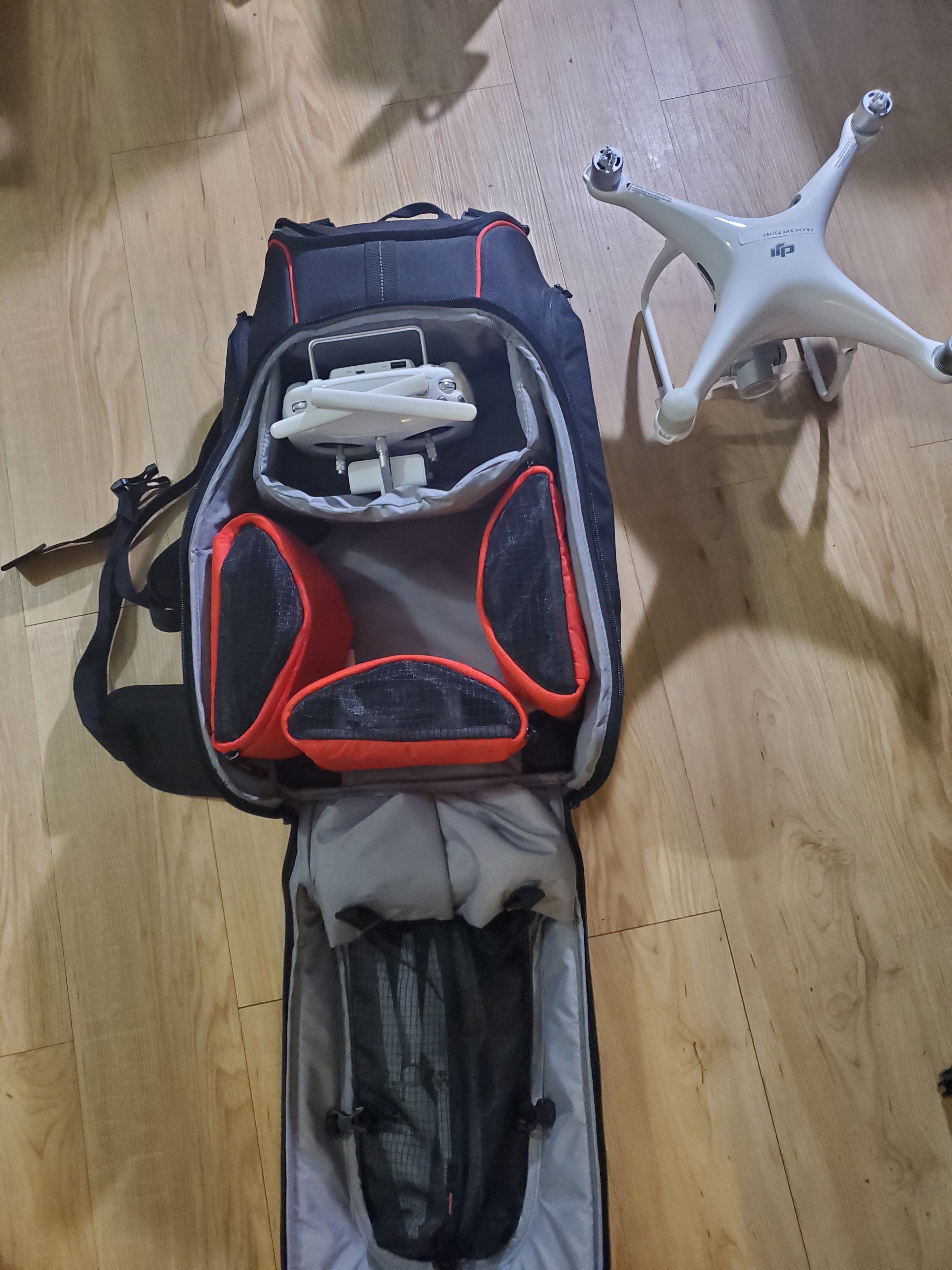 From the moment I got my Phantom 4 Pro drone, I was obviously excited to use it and I honestly didn't think I'd to even buy a backpack at first, but when I started considering all the hikes I'd need to take it on with me, suddenly that mindset changed, and so I looked for a good backpack for this drone.
The Manfrotto backpack came up as the highest rated one on Amazon and despite being a bit expensive, to protect my $1,500 drone, it was an easy decision to make.
For starters, I was surprised at how well this backpack protected the Phantom drone, and the additional space that was available to fit other accessories inside this backpack.
In addition to that, hiking with this backpack on proved to be very comfortable and I have since used it on numerous occassions. It's my go to backpack whenever I need to go on a hike and use my Phantom 4 Pro drone there.
Quite honestly, this backpack "over delivers" in my opinion because it's really made for the more professional film/photo takers as it has an absurd amount of space for more than JUST the drone.
Here's some of the things you can fit into the Manfrotto backpack:
The Phantom drone.

The controller from it.

Extra propellers and other Phantom drone accessories.

Spaces for 3 extra batteries.

Laptop space available.

Other areas can fit cameras, other miscellaneous camera equipment, wires, and even food.

Overall, there are 2 spaces on the sides, one space for laptops on the front, an opening at the top for miscellaneous equipment and the back which holds the model and it's controller and batteries.
If you'd like to see other reviews on the Manfrotto Backpack, click here.
The pros of the Manfrotto drone backpack:
1) Most importantly, this thing keeps the drone model steady as you move around and I would know.
I've literally hiked with this thing on my back and opened it up several times throughout a single hike to take the model out, fly it, put it back and move to my next destination.
2) I've also taken it with me on at least one major road trip where I basically had it in the passenger seat waiting to be used. If I hit the brakes or some turn causes the backpack to fall, I'm not worried at all, it'll keep the model protected well enough.
3) Now there is a rain bag that comes with this that you can take out and put over the backpack itself in case the situation calls for it, something I found to be VERY useful as on one of my hikes, I had to walk through a lot of rain, hoping to get a chance to fly the model, but never being able to, but while this was going on, I was being poured on, worried my drone would get wet, yet the bag kept it very well protected!
4) Besides the bag handles you put around your shoulders, there is also a seat belt like handle you can strap across your waist so it doesn't bounce around if you're on a motorcycle, bicycle or jumping around somewhere. 
5) Another cool thing about it is that it has a flat bottom so when you put it down, it will stand vertically on it's own. This is good for situations where you need to put the bag on dirty ground and it will ensure only the bottom part of it gets dirty/wet. 
6) Fits well into overhead storage so if you carry this drone on a plane, it'll be fine there.
The cons of the Manfrotto drone backpack: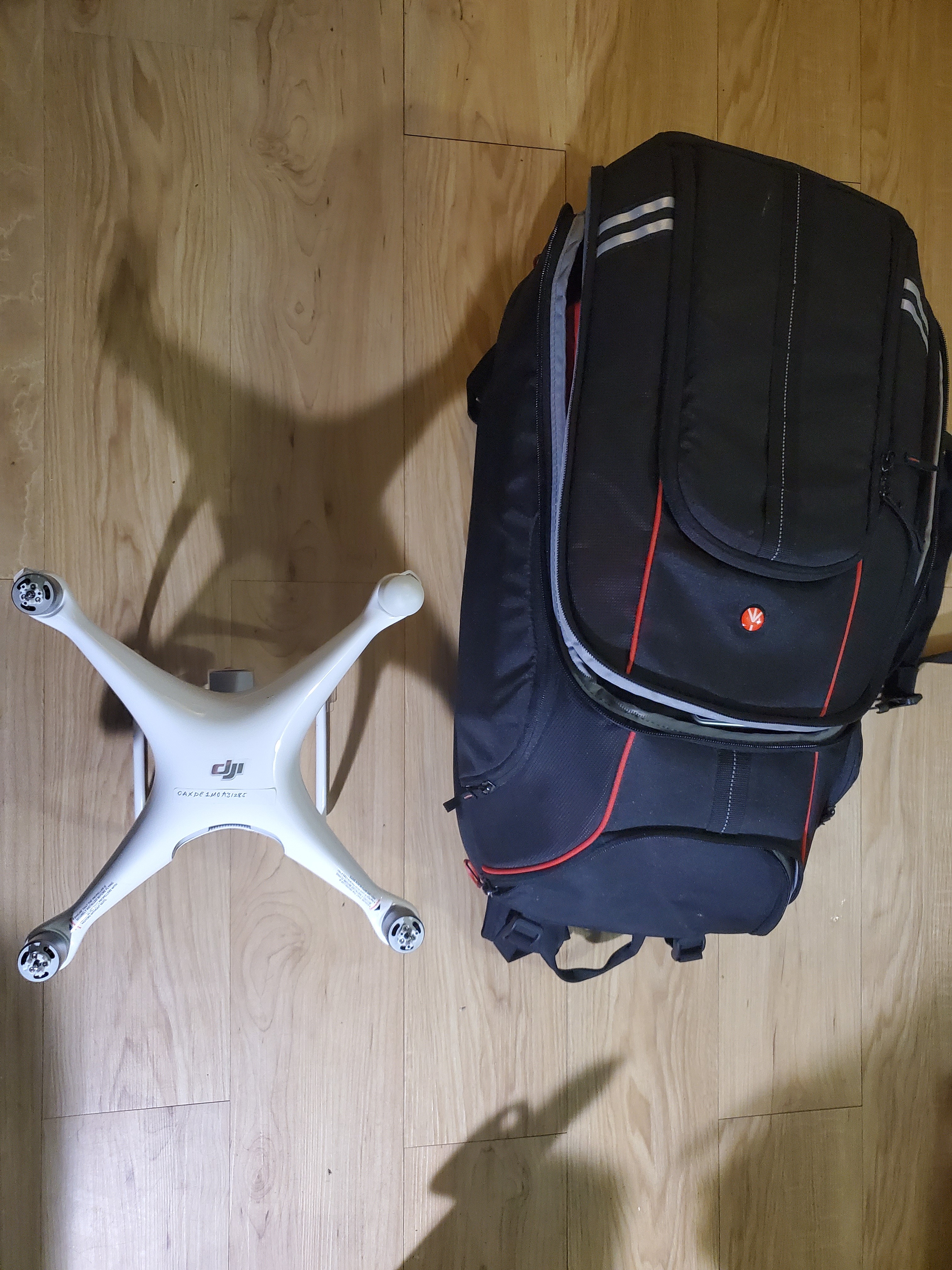 1) I don't think it's necessary if you're not going to take it outdoors or on hikes. Since I do a lot of travel blogging on my nature site, it's perfect for me.
2) It's not cheap. At $140+ (I got it for $160), you're investing in a major product. Although there is a lot of protection and space, keep the price in mind. 
3) As I said before, this product "over delivers" for me personally and that's because I just don't utilize it to it's fullest. In fact, when I carry it around, I only occupy the space for the drone itself, the controller, the propellers, some necessary wires and a landing pad which I stick into the area which is meant for the laptop. 
I am not a professional film maker or photographer, so for now, at least, I don't have a need to use up all the available space, but it is comforting to know that as I learn more about the industry, should I add new equipment to my video/photo taking collection, this backpack still has plenty of left over space to fill.
Will the Manfrotto Drone Backpack fit your needs? 5 things to consider:
1) I would look at the pros and cons I listed on it and decide if the way you use your Phantom drone requires this product or not. 
2) If you're a professional photographer and video maker, and travel outdoors or in areas where carrying a foam case isn't exactly suitable, get this.
3) If you're looking for excellent protection for your Phantom, including the rain, and travel a lot (outside especially), this is also a good product.
4) If you plan on riding a bicycle, motorcycle, snowmobile or anything that involves being in motion and traveling outside, this product will also suite you.
5) Despite not using it as fully as it was intended, I am happy with the Manfrotto MB BP D1 model. It's a great Phantom 4 accessory.
At the time I got it, I was in the initial stages of "overprotective drone syndrome" as I call it and wanted to get the best possible product when traveling with my Phantom 4 (Pro). I certainly have it with this, and I am sure it will make other people who have similar experiences of plan on having similar experiences very happy and assured that their expensive drone is protected. 
Click here to get the Manfrotto drone backpack (the same one I have been using).