Although the Mavic Pro is arguably one of the most portable drones you can find today, transporting it is another story. That is until you use the case I have.
Although it can literally fit into a large pocket, something that costs over $1,000 deserves better protection and in my situation, being a traveler who enjoys hiking and just being outdoors, my drone needed sturdy protection when I was transporting it. And add to that the controller, extra batteries, the charger, and other miscellaneous accessories (SD card, car charger, wires, ect…).
Enter the cases designed specifically for the Mavic Pro. There's at least a dozen you can find and honestly, from what I've researched, most of them are excellent, but the one I sought was one that would fit the following criteria: 
It needed to fit not just the drone, but the other essential accessories.

It needed to be small enough to carry and not get in my way.

It needed to protect my drone from the rain, water, and if I would bump into anything (I hike a lot so slipping and hitting something can happen).

It needed to be light (too many cases are excellent at protection, but are too heavy to carry around).

It needed to get excellent reviews and work for others. 
Based on those parameters, there was one that met all of those requirements:
The Smatree SmaCase D500, a model made specifically for the Mavic Pro drone and it's other accessories: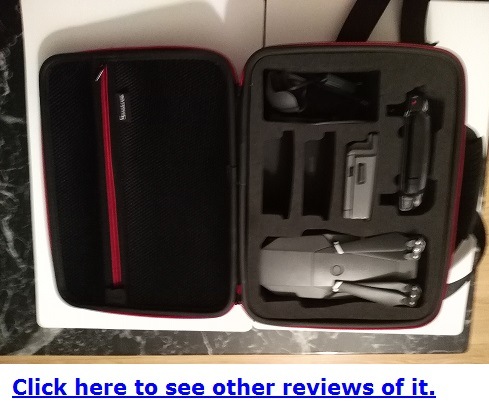 Here's some quick stats and pros on it:
-It has a shoulder strap and hand handle to carry it however you desire. 
-It's small, but also "large enough" to fit 3 batteries, the controller, the drone and the other important things you would have to carry on a trip if you were taking this UAV with you. 
-It has a very strong exterior material to protect the inside from pretty much anything you could hit or encounter on the outside (weather, rocks, bumps, ect…).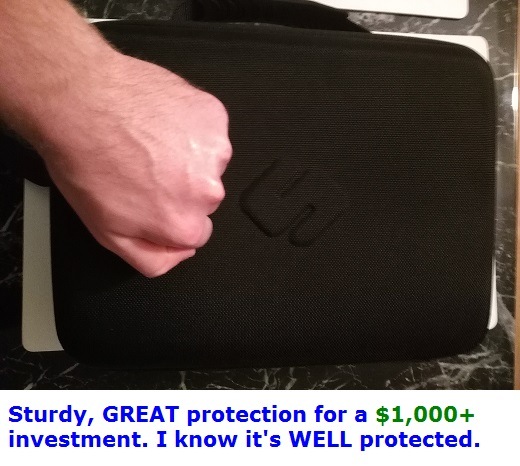 The interior is made of very thick, dense foam that is cut out in the shape of the drone so it fits perfectly, as do the accessories you can add into it. Because of this, when you walk, run or hike with this, the drone will not bounce around. In short: Extra protection.
-It's also small enough to put into a normal laptop book bag. There was a time when I went on a boat and to be extra safe, I put the drone into the Smatree Smacase, then put that into a bookbag to help protect it. It fit perfectly. You can also use this idea if you go hiking and just want to keep everything in a backpack. 
-It has a perfect rating from other users (5 stars all around).

-There's an extra layer of space above the actual place where you put in the drone and other accessories, that has a zipper where you can put in things like your phone and other flat type of accessories you can think of. Honestly, I just used that space for a phone and car battery, but there's a lot you can fit in there, it's like having an extra folder.
-I find this would be perfect to take on a plane because it's so small, easily fits into overhead storage on any plane and under your seat and it doesn't require you take too much time opening it up in the scenario that you get asked questions from security.
1 con:
The handle you grab onto that connects to the zipper ripped off for me. It may have been because I was very aggressive with it, but the point is, although I can still zip up the case perfectly well, it's just a little bit more difficult with the extra handle to grab onto. 
Things I've done with this product:
I've mainly carried it on hiking trips. I've gone up mountains, hopped rocks over streams and rivers. I've even crashed into rocks. I've been pretty careful as to not to drop the product itself, but overall, after using it for months, the drone has been protected perfectly well.
Adding to the portability of the Mavic itself, this case is a great supplement to keep that perk going. Like I said before, it's not that big and you hardly feel it on you when you're walking around with it. I've even ran with it.
The adventures I take with this drone require something that can protect it and at the same time not interrupt the portability perk, for myself and the drone. I've seen ones that are ridiculously large, but protect the Mavic Pro like money is protected at Fort Knox. Yet I don't need that. In my opinion, it negates the portability aspect.  
I just need something that's hard protection to still be able to carry it around and not let it weigh me down and the Smatree SmaCase D500 is perfect for that.
9 out of 10 Mavic Pro users will benefit from this product:
I know there's drone people out there that are fanatical about protecting their model and they will carry it in extraordinarily large cases, but I really think the Smatree SmaCase D500 will be more than suitable for most if not all Mavic Pro users and this is coming from someone who is really fanatical about protecting the model.
Get this product if:
You travel a lot and will have to carry it on your shoulder. 

You need to have the mental and realistic insurance that it will be protected. 

Need to easily and quickly fit this into small places like a plane, car and take it out quickly to use it. 
This particular product is about $50, and I find for the benefits it gives me, that's perfectly fine. To protect a $1,000+ investment in the drone itself, not to mention the $100's of other dollars in accessories for something that's just $50, but offers excellent protection like this thing does is an easy investment for me personally and I believe it will be for anyone who also has this model and wants the same things. 
Thus far, I'm very happy with the Smatree product and I ALWAYS use it when I'm ready to take the Mavic out for a flight. 
Note: This case does NOT fit the Mavic Pro 2 and there is one that was made specifically for it which I will do a review on, but if you own a MP2, do NOT get a MP 1 case like this.
Also if you own a Mavic Pro Platinum, the low noise propellers they come with do not fit WITH the drone in the case (the regular Mavic Pro propellers fit fine), so make sure to take off the low noise propellers if you intend on using this case.