With the Mavic 2 and Pro 2 being announced and released pretty soon, I figured it would be a good idea to list what I consider to be the 5 best portable drones on the market today, in terms of pretty much every feature you can imagine:
Great camera, actual portability, ease of us, reliability and more. Now I do believe that once the MP 2 comes out, it'll probably (ok, let's be honest, it's 100% certain) be better than any of these I am about to list, but if you're tighter on money or perhaps just want a GREAT drone to fly around with, I assure you, these 5 models are absolutely incredible and I would even bet you'd have a hard time seeing the difference between the awesome footage they shoot vs the Mavic 2 Pro and when it comes out.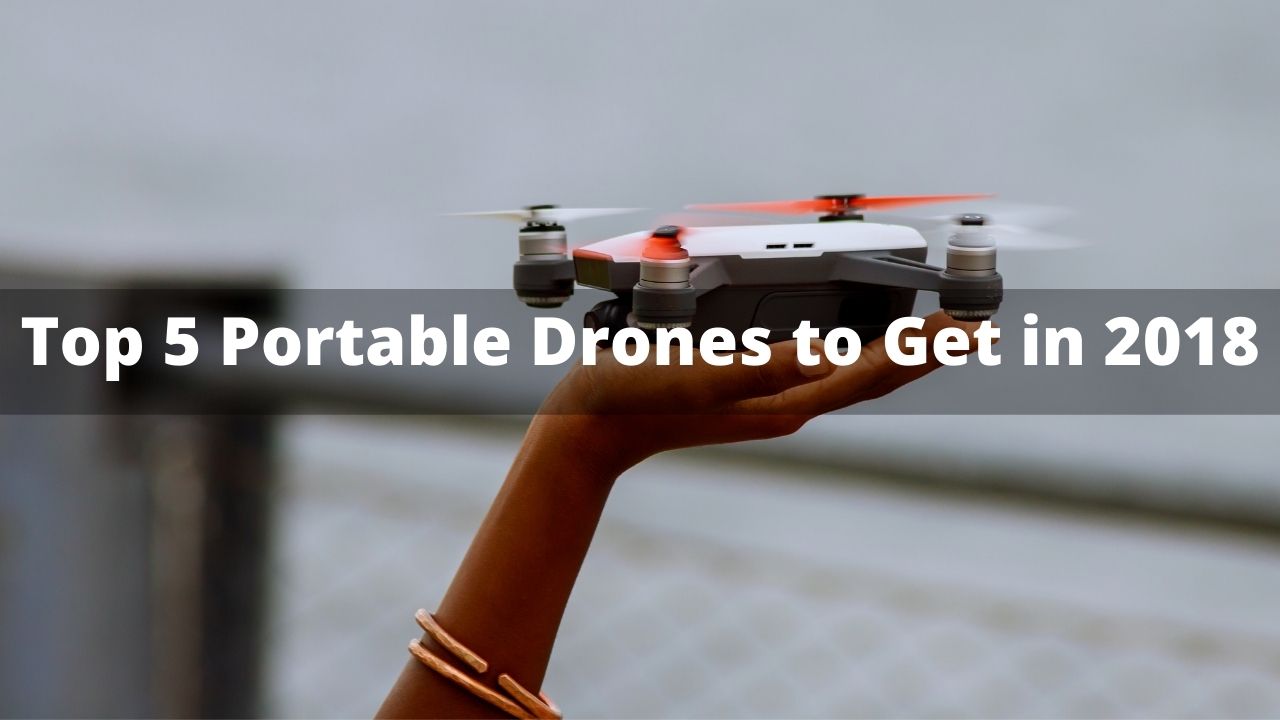 Note: I included a picture of the DJI Spark in the image, but I don't consider it as good as the others on this list, so I excluded it from the top 5.
Here is the current list of portable drones:
Parrot ANAFI.
Mavic Air 1.
Yuneec Mantis Q.
Autel Evo 1.
Mavic Pro 1.
Update: There is a new #1 portable drone. Scroll down below to find out what it is 🙂
This list of 5 is going to be a countdown type of list, so let's start with the last on it (it is by no means a bad thing, it's still a great drone!):
5) Parrot ANAFI:
Parrot released a new model in 2018 to compete with the top tier ones in their market and it comes in the form of the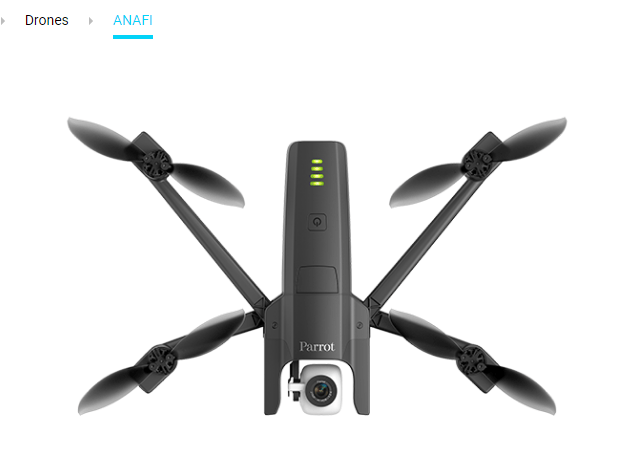 ANAFI, a 20 megapixel, 4K @ 30 FPS model that is honestly remarkable in a few ways (and lacking in some).
The first AWESOME distinguishing feature is it's 180 degree camera which NO portable model on the market today has and it's a brilliant idea I hope is mimicked by other models. This allows people to film whatever they want from a bottom up view and it offers an entirely new world of filming opportunity.
Added to this is the awesome zoom capabilities the camera has as well as the fact that the camera is awesome. The model itself is very quiet and can fly around for a good 20 minutes.
Although one of the biggest issues is the fact that it has no sensors and requires some advanced flying skills to use properly, it's still a very good model to consider.
I rated the ANAFI at 50 out of 100 points. You can read a full review of the Parrot ANAFI here.
Price: $500.
4) Mavic Air 1:
There was a brief moment in time when I got the Mavic Air where I rated it 95 out of 100 points and that was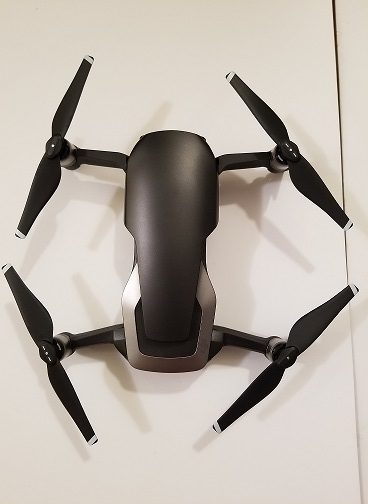 because I was REALLY impressed by how well it flew and even more so how well it shot footage, but as time went on, and I started seeing some of it's flaws, I reduced the rating, but never the less, this new and updated rating is still quite high and of course, in terms of portability, it's definitely in the top 5 for good reason (it's small and easy to carry).
The Mavic Air in general is one of the smallest and convenient portable drones on the market today. It's camera shooting capabilities are remarkable and it's flight capabilities are no joke either.
Coming in with 3 safety sensors and a decent 1-2 mile range (it depends on certain things), this model is one of the best ones out there for shooting footage especially if it's within your line of sight. In that regard, I consider it to be one of the most reliable for taking pictures and videos. 
It has a 12 megapixel, 4K @ 30 FPS shooting capability and also includes an internal filming/picture storage of 8 GB.
The only downside I've found is that there's a pretty short battery life and that it can't really fly too far when there's too much range interference, otherwise, it's awesome.
Here's a full review of the Mavic Air.
It's current rating is 70 out of 100 points.
Price: $600
3) Yuneec Mantis Q:
This model marks Yuneecs first drone in the portable field and it's awesome. It takes ideas from many of the greats in the existing portable models today and utilizes it VERY well in itself. It has a 4K, 30 FPS camera and supposedly gets close to 30 or more minutes in flight time. 
Although one issue is that there's no obstacle avoidance, it still flies very well and I would put in line with the ANAFI but more reliable in my opinion. I'll be doing a more thorough review of the Yuneec Mantis Q very soon but as of now, I'd rate it at 70 out of 100 points due to it's GREAT camera and AWESOME flight time.
Price: $500-$600.
2) Autel Evo 1: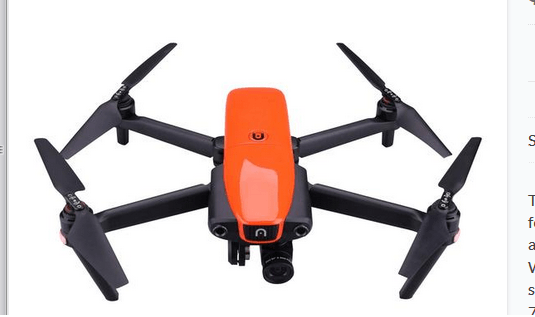 Anyone who is familiar with the Autel Evo may wonder just why I would rate this as number 2 and not 1 on this list. After all it does have the best camera in ANY portable drone model on the market as of TODAY (wait until the Mavic 2 comes out), and I even admitted it, but then why does it rate as #2? 
Well because I have said that many of the promises this model was set to show us prior to it's release did not meet expectations once it actually was released. Yes it does have an awesome camera, but in many of the other promised areas, it seriously lacked backing up those promises and I know the people of Autel are working to improve it, but it still needs a long way to go to reach what it was said to be capable off.
Now despite those set backs, the Autel Evo is still a GREAT model and gets an 65 out of 100 points. In fact, if it met the promises it had on paper, I'd probably make it a 95 out of 100, but that lack of meeting expectations really set it back.
Can you get great footage with it? YES!

Can it fly well and is it reliable? YES!
So in that regard, this is #2. Here's a full review of the Autel Evo 1.
Price: $999.
Note: There is an Autel Evo 2 Pro out and here is the review of that. It is larger than the Autel 1, but is still an awesome drone to consider.
1) The original Mavic Pro 1:
Despite being 2 or so years old at this time, I still believe the Mavic Pro is the best portable models on the market.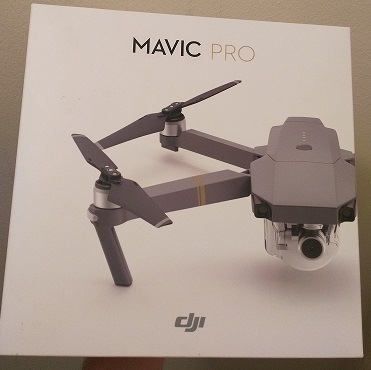 Once again, when the Mavic Pro 2 gets released, it'll be a different story, but if you're still on the fence about buying this original model, and you're tight on money to spend $1,000+ which is what the MP 2 will most definitely be, don't wait, get it the original because it's still the best one.
I rate the Mavic Pro at 90 out of 10 points because in many ways, not only does it film incredibly well, but it really EXCEEDS expectations in just about every regard you can imagine: Filming capability, flight time, RANGE potential (it's still the best), and overall the reliability of it as a whole is at the top.
In my opinion, anyone who has flown this drone for an extended period of time AND has tried the others on this list would either agree with me placing it at #1 or at the very least agree, it's in the top 3 and there's a good reason for it.
The Mavic Pro can and WILL be a classic in how well it films. To this day, my jaw still drops when I look at what it's able to capture and how well it flies (full review and footage). I also make the argument that it's so good, that the other models, actually model themselves from it. After all, the Mavic Pro WAS the first original PORTABLE drone to be released in the drone market and it's solidified it's status as being one of if not the best portable drone today.
Price: $800-$900.
New #1: Mavic Pro 2:
If you're seeking a portable drone that will be sturdy, reliable, safe and will shoot better than any other drone on this list, then the Mavic Pro 2 is the one to go with. While the others are good and even great, this is the greatest one as of right now. Learn more details about the Mavic 2 Pro here.
Price: $1,375.
Which drone would you rate at the top on this list?
Do you agree with this list of 5 I made? If not, how would you rearrange it? Is there a drone you'd add to this list that I didn't include? Let me know 🙂