Stats and info on product:
Name: Parrot Bebop 2.
Company: Parrot.
Typical Flight Time: Average of up to 25 minutes.
Price: $359.99.
Size: Slightly smaller than a Mavic Pro. You can hold it in your palm and it is pretty portable, although the wings do not fold. 
Price: There's 3 different packages, the first is for the drone itself, which is anywhere from $200-$250, the next is with an FPV and controller package, which is about $400-$500, and one with a large remote, and the drone for about $500 too. Official prices vary based on where you get it (Amazon, Best Buy, Parrot website, ect…).
My personal recommendation is to get the FPV package with the remote as it provides the most benefits. 
Camera quality: 14 MP camera that shoots at 1080p @ 30 FPS.
Rating of product: 55 out of 100 points. An ABOVE average drone, that shoots good footage and video. Very easy to fly around with if you're a beginner, yet this is a 2016 model and in comparison to other look a likes (in the portable department) on the market, it is not as good.
I'll do a review on the Parrot Bebop 2 first, then compare it to 3 other portable models on the market that are on that level or higher: The Spark, the Mavic Pro and finally the Mavic Air. However…
The overall stats and pros of the Parrot Bebop 2:
1) Camera is decent (1080p @ 30 FPS with a 14 MP camera is no joke, it's HD).
You should expect it to shoot at a level or a decent camera phone, probably not up to the level of a Samsung S8 or more present level iPhones, but still more than good enough. 
2) Flight time is awesome! 
25 minutes on average is amazing stuff. Thus far, the only model it's size that gets that much flight time is the Mavic Pro (I compare them further below).
3) One of 2 remote options.
Depending on which package you get (I don't recommend just getting the drone), the controller is pretty awesome. With it, the range and actual control of the flight is better. 
4) Range. About a mile with the controller.
1-2 KM I believe is the average distance you can fly this thing, that's slightly over a mile far.
5) Camera is well protected behind another lens and can rotate sideways in addition to up and down.
One big advantage the Parrot Bebop 2 holds over DJI models is that it's camera CAN rotate in more than just 2 directions (up and down), it can also go left and right, thus helping you have more customization in terms of shooting abilities. 
6) Sturdy.
The overall model is "hard" to break. Not that you should test this, but generally, at the speed it can fly up to, depending on what it crashes into (hopefully nothing), it has a strong chance or survival and continuing to fly after.
7) Good controls and flying ease for beginners. 
One of the things that makes this model enjoyable is that it's easy to fly. Being that it can go at up to 30 mph and it takes some seconds to reach that, people can navigate with the drone much easier than with other, faster models. Just because certain drone models are faster doesn't mean they are better since faster speeds inhibit the overall turns of the model. In this case, it'll be a lot easier to fly if you're a beginner.
The cons:
1) Wings cannot be folded.
2 years ago, this model would be considered VERY portable. Today this is not the case. Even models it's size like the Mavic Pro are much smaller because the wings can be folded. Obviously compared to bigger models like a Phantom, the Parrot Bebop is a much easier one to carry, but in the realm of portable drones, it is not at the top, not even close (the 3 models I'll compare it to below are more portable and also fly well).
2) Camera is good, but not exactly high level.
If you're not really the kind of person who cares too much about "professional" level photo taking or filming, you'll be OK here. The camera on this model is GOOD, but these day's models are a lot better, especially the ones who shoot in 4k.
3) No sensors. 
Despite being beginner friendly in terms of set up and flying experience, you still have to be very careful, especially since this model (on it's own) does not have safety sensors as far as I know. You can buy an additional accessory known as a "slam dunk obstacle avoidance module" which looks like a mini drone you attach to the top of the Parrot Bebop, but it's a separate purchase. 
No sensors for me a turn off to be honest, because it inhibits a hands off type flying experience where you may want to do things like film yourself flying and have the drone follow you (which the Bebop 2 can do), but without that obstacle avoidance, you have to be really careful as to where it flies around while it follows you.
Overall thoughts on the Parrot Bebop 2: Who it's perfect for.
As a first time drone, this is a great model.
If you're a beginner and have never flown, this is also a good option.
If you like taking pictures but are OK with them being fine, and not too professional, this is good (again, let me stress that this drone takes good pictures and videos).
Overall, this is a good entry into the world of drones for beginners and FPV flying. You'll have fun.
Parrot Bebop 2 (PB) vs the competition, starting with a DJI Spark.
The Spark is twice as small as the PB, but has a similar photo/video taking ability at 1080p @ 30 FPS. I rated the Spark the same, at 70 out of 100 points. While the scores are the same, it's not because they are the same. It's because:
The Spark is more portable the than PB. 

It's also beginner friendly.

It has fun options like palm landing available.

It's distance potential is similar to the PB as is it's speed potential (in sports mode).
The only area where the PB is better is the price:
For a regular PB drone, you're looking at $200-$250. A Spark is $399 for JUST the model.
With a remote attached to the package (and FPV), the PB is $500, while the Spark with a remote (no FPV Goggles) is about $550+.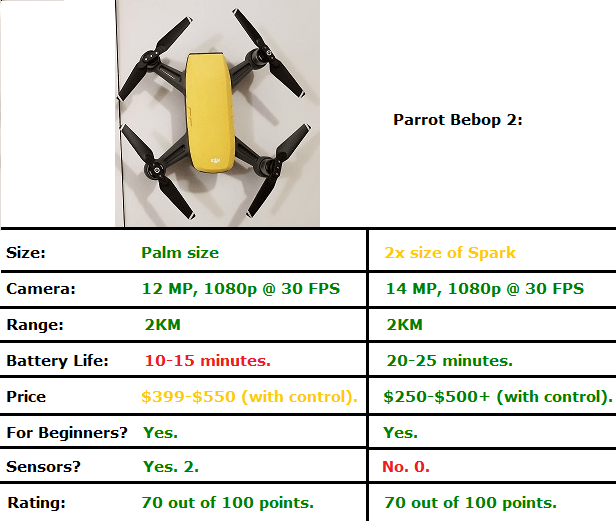 Overall, the 2 big things here are the price and the portability. If you are tighter on money, get the PB. If you are not and like portability, get the Spark (they shoot similarly). 
Parrot Bebop vs Mavic Pro:
Size wise, both models are the nearly the same (the Mavic Pro is slightly larger), but when folded, it's smaller and more portable. It's picture/video taking ability however is next level to the PB (4K @ 30 FPS with a 12 MP camera). I rated the Mavic Pro at 90 out of 10 points and here's where it has advantages over the PB:
More portable when folded (easier to carry).

Much better camera.

Much more range potential (it can fly 2-3 times as far).

Similar flight time on both models. 
As with the Spark, the PB is superior in terms of pricing. A regular package of the Mavic Pro today will cost you $999, which comes with the remote and 1 battery, while a regular PB (just the drone) is nearly 75% less expensive, yet you SHOULD get the remote with a PB as it'll make the flying experience easier and more fulfilling, so that's about $500, which is still about 50% less than the MP.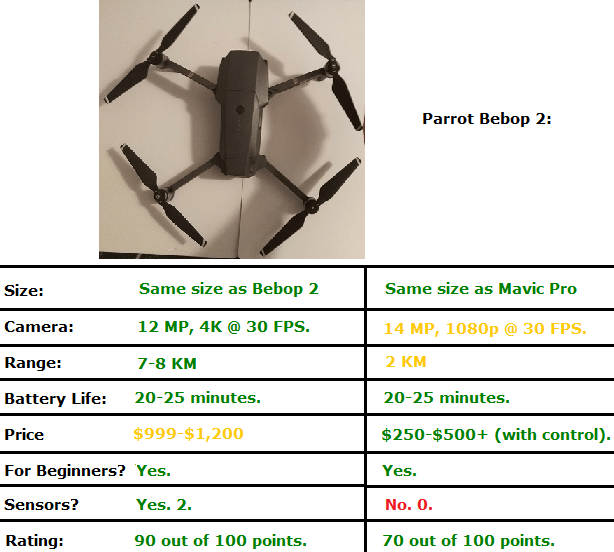 If you value a higher level model and don't mind the extra price, get the Mavic Pro, it's an awesome model and frankly the best one out of the choices here. But there's still one choice left…
And finally, my preferred alternative: The Mavic Air.
If you wanted to get the Mavic Pro because of it's abilities, but the price was holding you back, you will likely find the Mavic Air to the best option for you, out of all 3 alternatives. I rate it 95 out of 100 points.
The Mavic Air has a nearly identical camera to the Mavic Pro, but my test indicate it shoots slightly better, so my opinion is that you get a better camera with the Mavic Air. It's also twice as small as the PB and the Mavic Pro, so you really get amazing portability with this model. 
Overall, the Mavic Air has the following advantages:
3 safety sensors on the Mavic Air vs no sensors on the PB.
Way better camera than the PB and slightly better than the Mavic Pro (12 MP camera with 4k footage at up to 30 FPS).

Palm control abilities (like on the Spark, no remote needed).

More intelligent flight models.

It can fly 2x as far.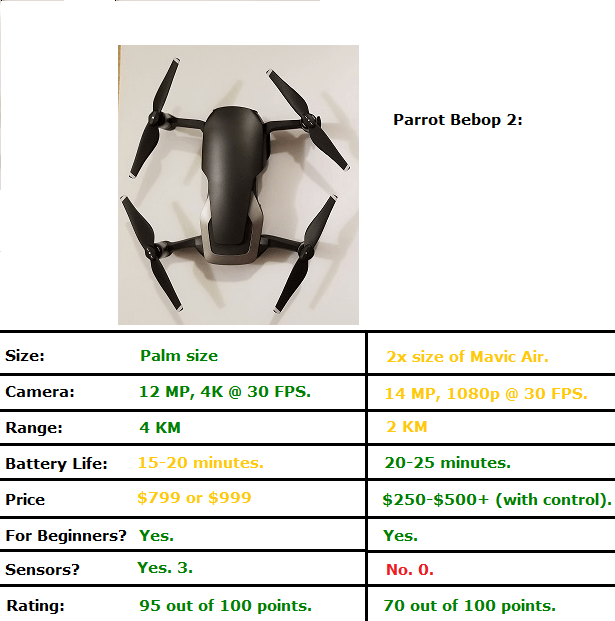 Update: I've reduced the rating of the Mavic Air to 85 out of 100. But still the PB has 2 main advantages to the Mavic Air:
1) The price. The regular package for the Mavic Air is $799 and being that I recommended you get the PB with the remote ($500), you're looking at a 30% higher price point. If you're OK with that, get the Mavic Air, no questions there!
2) The flight time is about 5-10 min more on the PB. If this is important to you, as is a tighter budget, get the PB. If not, get the Mavic Air, I am certain you'll love it more and it is next level.
Why I compared the Parrot Bebop 2 to these 3 models:
The PB is a portable drone, and naturally with this whole market having numerous portable options, if you have the question on alternatives, the 3 I showed you are the likeliest ones to compete with it. I have given you their stats and explained my rating for each. 
I have also provided separate reviews on each model in case you wish to learn more, including pictures of how good the cameras are.
Again, I like the PB and I would have rated it higher had I done this review 2 years ago when it came out, but technology and the quality of the models coming out recently (and moving forward) has risen drastically and this has actually pushed the PB further down on the rating because the bar has risen.
My personal choice? Get the Mavic Pro if you can afford it!
Update: Parrot ANAFI.
I think the ANAFI is also a great choice and is in every way better than the Bebop 2. It's another drone you should consider, especially if you're already a fan of Parrot's drone models.