I recently saw this hilarious, yet true pie chart about drone crashes on a Facebook group and the reason it was hilarious was because it said that 90% of all crashes happen because of pilot error (or stupidity basically) and that is SPOT on.
You will find that in the following cases, this is why drone crashes occur:
90% of cases it's the pilot's fault (lack of knowledge).

5% of the time, it's the quality of the model, meaning if it sucks, it's harder to fly and thus easier to crash.

The remaining 5% are due to miscellaneous things that happen outside your control. Remote control errors happen, something happens to the bird in flight, something unusual and out of place. It happens rarely, thus it's classified as 5%.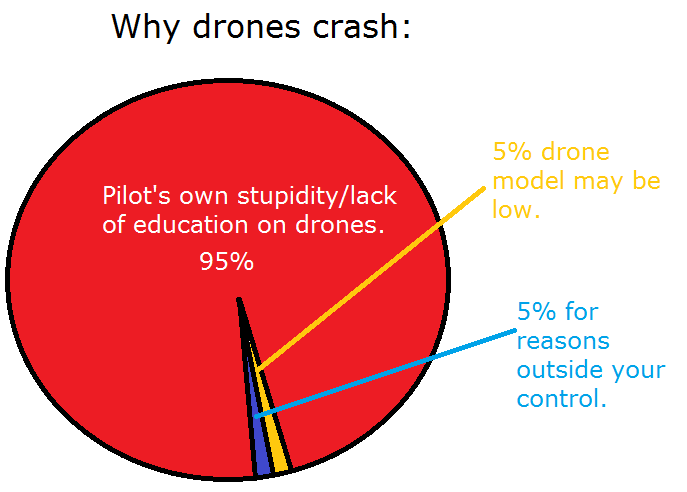 I've had my own close calls and still do, and let me tell you, most of the time, even though I'm experienced, my own foolishness is what led to the close call happening in the first place. As such I have provided a list of 5 reasons why drones crash and how to stop it. Let's get to them:
Reason 1: You don't fly in an open area.
People who get their first drone get so excited and decide to fly it in their backyard, on the street, in areas where that area has who knows how many obstructions in the way (wires, poles, houses, people, garbage cans, you name it…) and without proper experience with the bird (and especially if it's hard to control), you're asking for a crash to happen, or worse, if you hit a person, that's an even bigger issue.
Just try to fly in an open area where there are no people and the space is large enough to make mistakes in, and because it's so large, at least if something goes wrong, you won't hit anyone or anything. Try to fly in grassy fields so if it crashes, it'll land on soft grass and not get damaged.
Reason 2: You get a bad, cheap drone model.
I'm not saying you should buy the most high end drone you can find, but just know there's a STARK difference between high end, medium end and low end models and the higher up you go, the safer they are made to fly.
The only time I'd suggest getting a low end model is if you don't care about drones and just want to play around with one. In that case, get a cheap, small one and just experience it in an open area.
Just do know that the flying experience will probably suck and if you want to truly experience how fun it is to fly a drone, you may want to try a higher end model, like these:
All of these are pretty expensive but very reliable drones, so odds are, if you crash anyone of these, it's likely through piloting error (rare exceptions excluded).
The only exception to this rule so far is the Gopro Karma which I think is an awful drone beyond it's weight in price.
Reason 3: You fly your drone in areas with high connection interference. 
Generally, you will have one of two things when you fly a drone: A controller or a phone. Both these things will transmit a signal to the bird, allowing you to control it.
That signal can have a ton of interference if it's in an area where there's signals going back n forth. An example would be a city. The strong the interference, the worse your connection will be, especially if it's WiFi and what will generally happen is that the range of your bird will be negatively impacted.
So if you for example get a drone that claims to fly at least 1 mile, if you try to fly it in strong interference areas, odds are, that range will be cut down at least 2-3 times. If you're currently experiencing this issue, I've got tips to improve the drone's range potential here.
In addition, that connection interruption is what can lead you to not see where you're flying (or what you're about to fly into).
One of the best ways to prevent this accident from happening is to fly within your line of sight, this will ensure you have a strong signal and altogether, to avoid flying in strong interference areas in general. 
Another option is to get a bird with a strong signal connection that won't be as flaky in strong interference areas. Currently the bird with the BEST signal you can get is the Mavic Pro 2. It uses the ocusync connection which is the strongest in the industry. It also has an 8 kilometer MAX range.
Reason 4: You fly near magnetic interference areas (too much metal). 
This is different than the reason above. Examples of this can include train bridges and any area with a lot of metal. Stay away from those areas.
I've seen too many crashes happen, for instance in areas where a person tries to fly within a train bridge area. Because there's so much metal, it screws up the bird's compass and causes it to swerve in all directions, giving you less handle over it. And that my friends, increases your chances of a crash by many times.
I will never forget how I tried to fly near a metal bridge and my Mavic Pro was going crazy, giving me "Compass errors" and "magnetic interference", even though I was 30 feet away from the bridge, that's how crazy the impact of metal can be on your bird.
And the Mavic Pro, by the way is considered one of the BEST birds for preventing signal interference, and yet in this case, it had no chance. 
What happened was, atti mode was activated and basically what this means is, I have less control and all sensors are out, meaning it won't fly safely. 
Now I was fortunate, because I flew close to myself so I was able to catch it before things got crazy, but not every drone model will tell you this stuff, they'll just start going crazy and you won't know why it happened.
Reason 5: You fly too far into areas where landing is not possible.
The best point to show this is if you fly too far into water. I can't tell you how many stupid people try to do this and fail miserably. Now there's who knows how many drones at the bottom of the sea because of this mistake.
You should understand things like weather conditions, wind speeds and most of all: DO NOT fly into open water. Why risk it? 
All this being said, there's more safety tips:
I have 10 drone safety tips I have written about here. And regarding the 5 you just read about, just note that they come about from the pilot error and not knowing about things like magnetic interference, open water flying and other stuff is a reflection of the pilot's lack of education on drones.
This is why I said most crashes happen due to their piloting error, not the bird's. So with all that said, learn from the masses of foolish people who have crashed their birds unnecessarily and those who have had close calls like me. Don't make our mistakes and have a safe, fun time flying!