Having money problems purchasing DJI's expensive products? Well there's hope, with the new "Trade Up" program that is out, it is now more possible than ever for you to send in your old drones and gear, get estimates of their worth and if you agree to the amount you'll be given for it.
Once you confirm it, that amount will be given to you as credit which you could then use to buy more stuff from DJI products themselves. In this article, I'd like to explain a bit more about this program in case you are interested in using it:
How the DJI Trade up program works (explained in detail): 
Although I just explained the general idea behind this, there's actually a lot more to say about this offer:
If you own one or more of the following devices, you can actually participate in this thing and get decent compensation out of it (sometimes):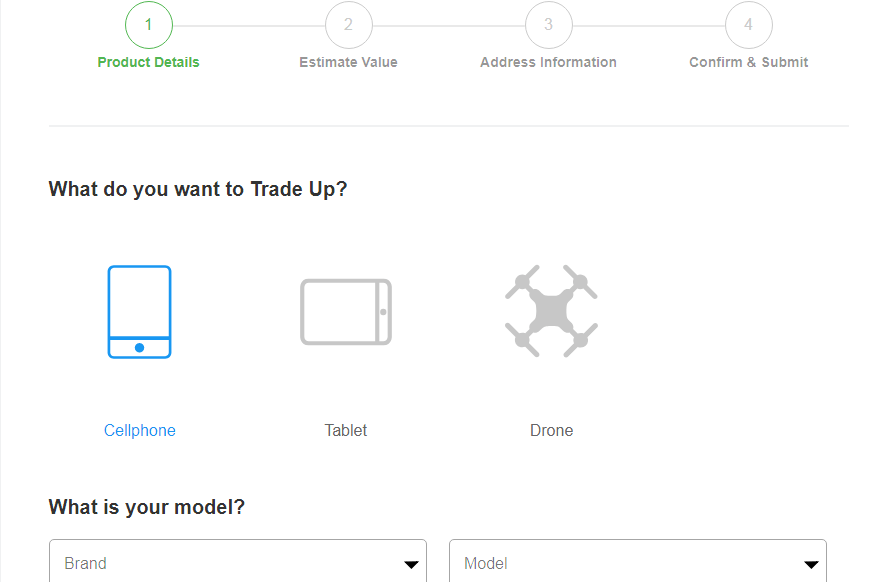 Drones:
Have an old drone model you don't need anymore? Well you can try this Trade up program and see what DJI is willing to pay you for it.
Now apparently, it's not just DJI models you can sell, but after you select the drone, you can pick out what condition it's in, and there are 4 options: New, Like New, Used and Broken.
Obviously, the more new it is, the more it'll be worth. I actually tested this with my Phantom 4 Pro model I was considering selling and I'll tell you the estimate DJI gave me below.
Tablets:
Yes they will also accept tablets you own under the same conditions as the drones. You can select the brand name and it's condition and see what you'll get for it.
Cell phones too:
Again, any brand name is accepted and the better it's condition, the better it's re-sale value.
Once an estimate is given to you based on what you entered, you decide if you wish to actually go through with it and if you do, DJI pays for the shipping and you send it out to them. The product you send received, analyzed and if it meets the expectations, you are given credit on your DJI account equal to the estimate. 
If the product is not as you indicated and worse, obviously, the final price is lessened proportional to the condition of the product.
Interested in trying this offer? Click here for the official page.
Pros of the DJI trade up offer:
DJI pays for shipping.

You can sell most of the commonly used electronic goods today, not just drones.

It's a good way to get the new, existing products in this company less expensive.

It's also a good way to get rid of old electronic products you can't use or sell and get some value from it.
Cons of the DJI trade up offer:
You only get credit that can only be used on the DJI site to buy DJI products.

The value of the product you send in doesn't really have much room for negotiation meaning the price you're given is probably final.

You may be better off auctioning or physically selling your product to someone in person than through this program.
I tested this DJI trade up feature out and here's what I was told:
I actually decided to test out this new feature and wanted to see just how much my Phantom 4 Pro would be worth. Although I've had it since 2016, and flown it a lot, it's still like new and working great. I regularly clean it after flights and try to ensure it's doing well.
Well I gave out this honest info on the Trade up site and here is the estimate I was given: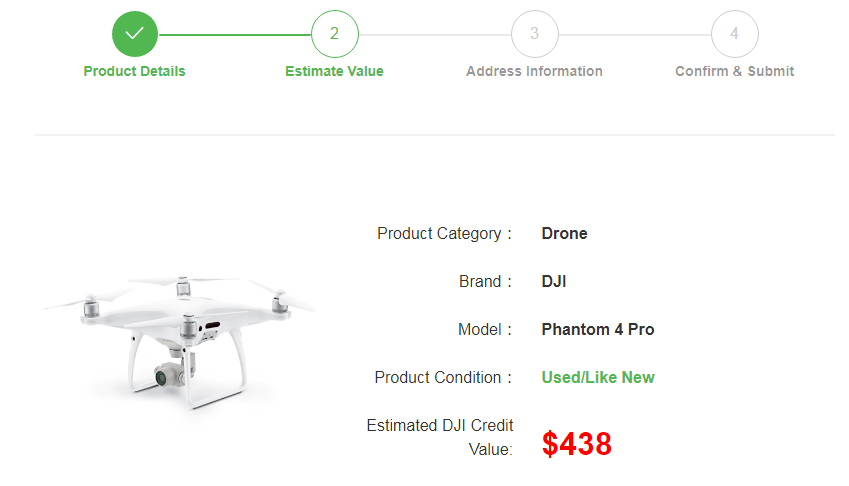 Considering I paid $1,500 + tax ($1,600+) for my Phantom 4 Pro, this estimate was a bit too low for me. I would have accepted 40%-50% of the price I paid which would make it almost twice as much as the estimate I was given.
As a result I decided NOT to sell my Phantom 4 Pro. Now I do understand DJI's position in this case, until someone do does a final estimate sees the drone and sees that it's in good working condition, they can't really give me a bigger estimate so to hedge themselves, they give you a lower one just in case, but still, $438 is too little for me to accept. 
By the way, if you're wondering why I'm considering selling my Phantom 4 Pro, it's because I'm about to get a Mavic Pro 2 in the mail so I was just thinking about how much I could get for the P4P.
Should you use the DJI Trade up program?
It's certainly a legitimate program, but you have to understand that the estimates you get will be lower than what you'd probably accept in most cases. Plus you need to understand that it's credit you get on the DJI site, not cash and not a check, so it's like a gift card that's only redeemable in one place, the DJI website.
If you're good at negotiating and can meet up with people with whom you can talk into buying your product for a good price, then you probably don't need to use the trade up program.
But if you have a product that will not sell to anyone you meet, and you want to get rid of it, and you love drones and other accessories within DJI, then yeah, use this trade up program, you'll be able to get something from that.
Another thing to consider if you have nothing to sell but still want to buy expensive drones from this place is using it's "Affirm checkout" which is what I used to buy my last drone, it's basically financing the product instead of buying it all in one price.
I personally like this program a lot and it'll quite a lot of people who can't really find a better way to sell old stuff they don't need.
One way I'm considering using the DJI trade up program:
I own 6 drones, 5 of which are DJI. With the Mavic 3 coming out eventually, I expect it to be close to $1,500 if not more, and currently, there are 3 drones I barely use:
I figured if DJI's trade up program can give me a good estimate on these 3 drones, I can use the credit from them to invest in a Mavic 3 when it comes out. If the estimate isn't good, I'll likely sell the drones to someone who is willing to pay more and invest the same way.